After ten years in this creative field, I've met some incredible business owners. Instead of sitting on all this awesomeness like a dragon hoarding dead-dude-gold, I'm going to share them with you! So this month, I'm introducing you to Hannah of Needle OR Thread.
Tell me a little bit about yourself and your amazing business.
Hi there! My name is Hannah Austin, and I'm an artist specializing in embroidered fabric collage landscapes. I started quilting when I was younger and loved making landscapes and learned many fiber arts as a kid from my grandmother. Once I had kids it just wasn't easy to quilt with quick grabby hands around so I started combining my love of raw edge applique and embroidery to create these smaller worlds. I started sharing them on social media accounts in the beginning of 2019 as a way to find some sort of purpose outside of motherhood. That seemed to resonate with many people--especially women, and it grew into my full time job in the summer of 2020.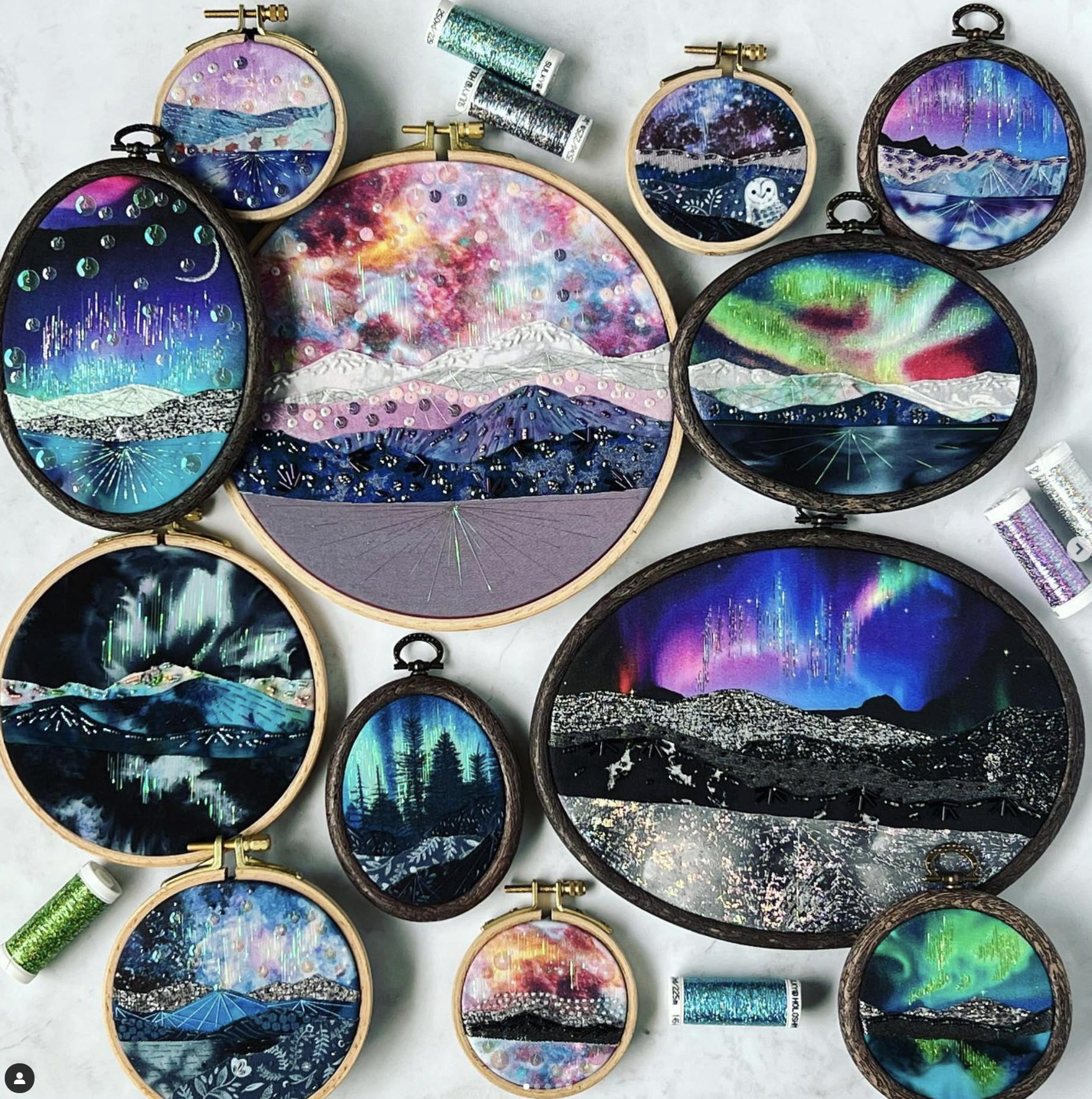 What embroidery project are you most proud of?
I'm really proud of my Aurorascapes, I was trying to create something that I hadn't seen before. I stumbled across some Sulky holo-shimmer metallic thread that I had from my time machine quilting, decided to try it out in hand embroidery, and after lots of trial and error I feel like I've created a bit of a signature. I love the way they make me feel when I look at them, so hopeful and filled with magic. I'm also pretty proud of my sunrise and sunset pieces as those are made to honor my children, both alive and lost in miscarriage.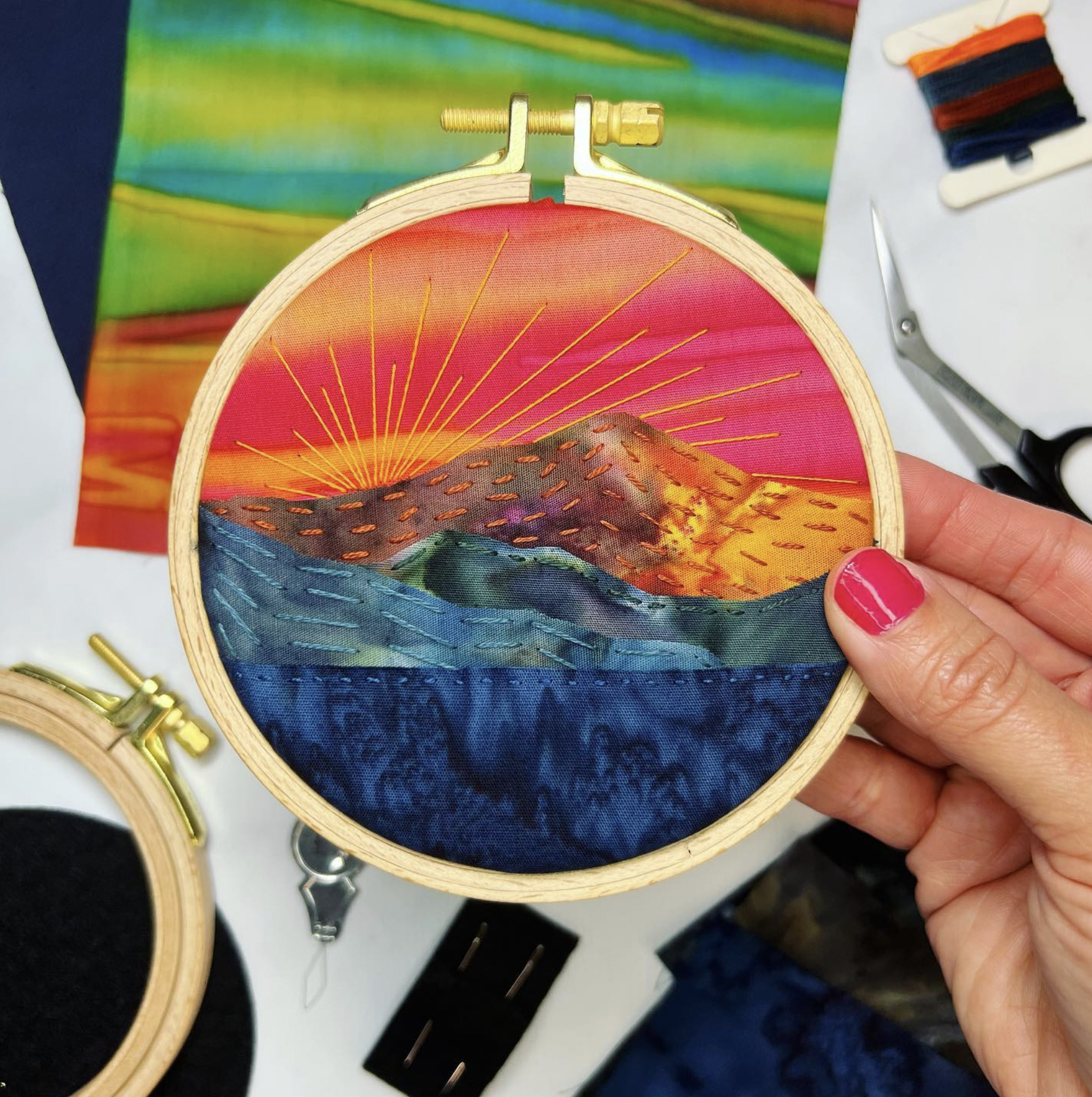 What is the coolest (or weirdest) thing you've ever done?
Gosh, this one is hard. Honestly, giving birth. There is nothing like the empowering feeling of bringing a baby Earthside and being in total awe of this new human that came from my own body. It reminds me of the strength and resilience of women, and there's nothing cooler than feeling that connection to the generations of women that came before us.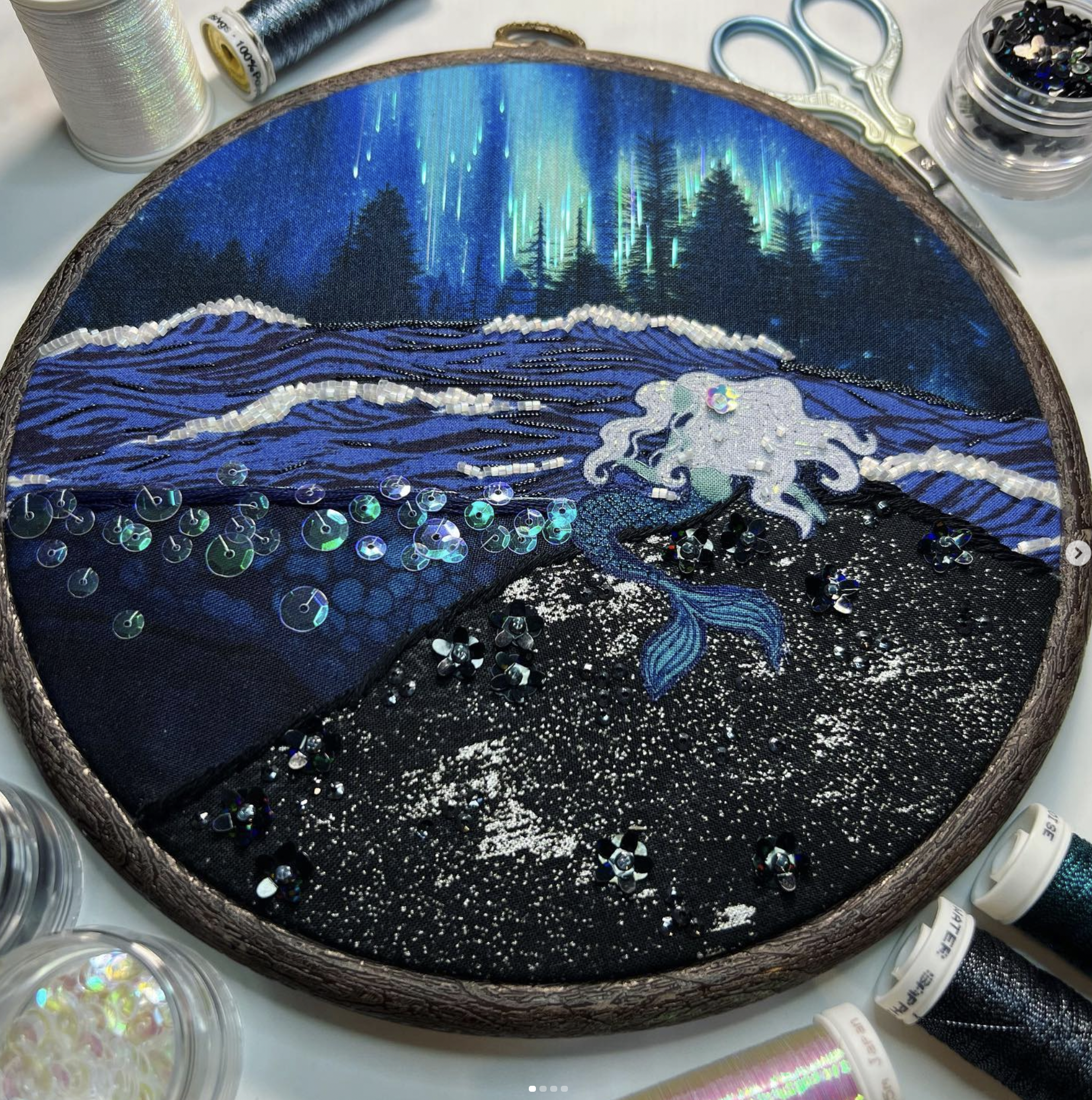 What is your hidden talent (outside of work)?
I am a classically trained singer! I studied vocal performance and music education at Augustana College in Rock Island, IL. I absolutely love to sing, but just couldn't do it professionally anymore once I had the decision to have a family. I also taught preK-5th grade music before starting my art journey!
What book do you share with all your friends?
Ha! Well, I'm in my mid-30's here, and so most of my book recommendations are ones about healing from trauma. My go-to book recommendation these days has been The Emotionally Absent Mother by Jasmin Lee Cori.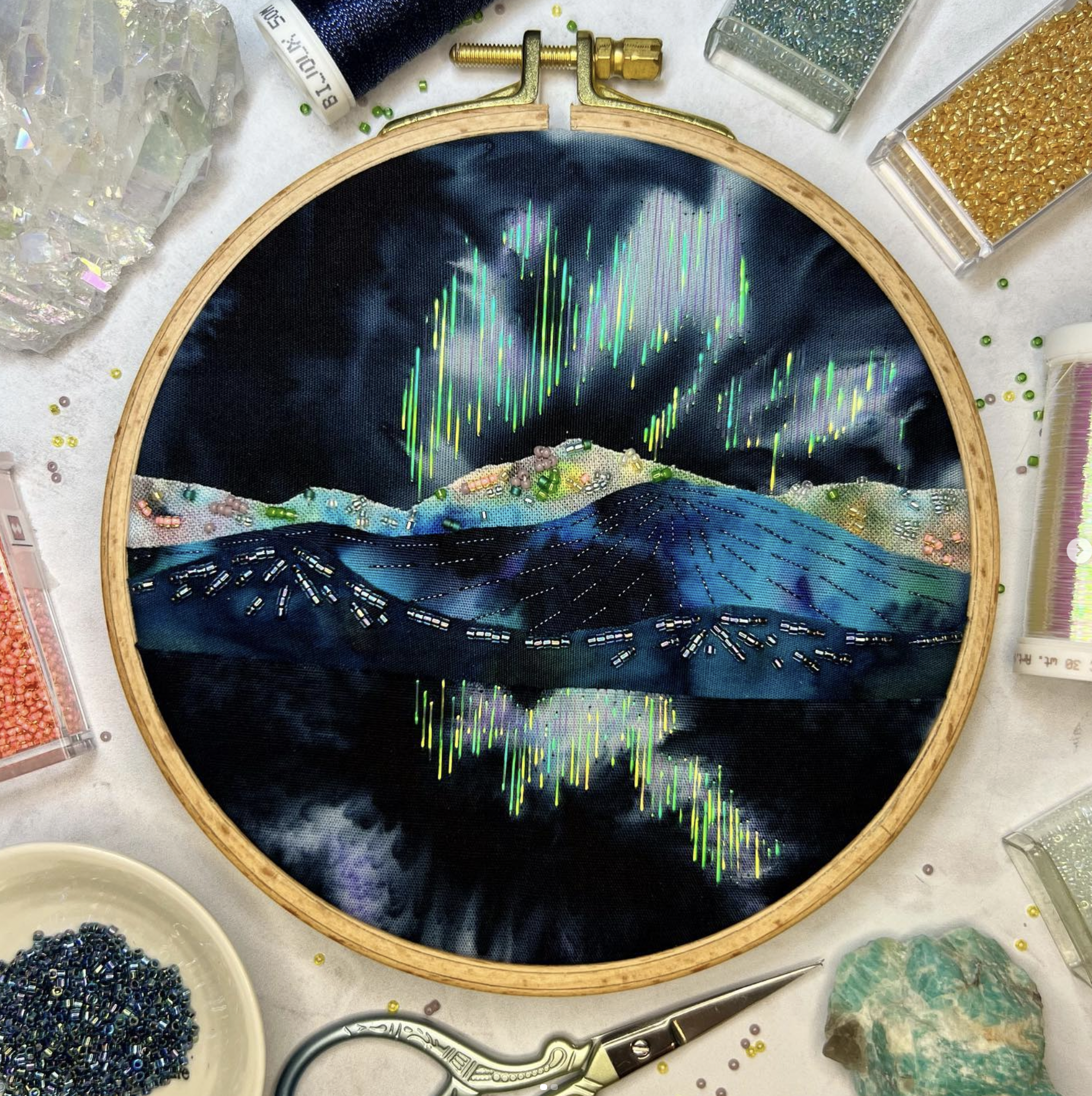 What is your biggest passion outside of your business?
I love to cook and bake, and feed my family and friends. My love language is food!
What one thing would you recommend people to check out from your website/Instagram?
I am always creating new work so Instagram would be the best way to stay up to date on my current projects! I've also just started offering kits, and I'm pretty excited about them!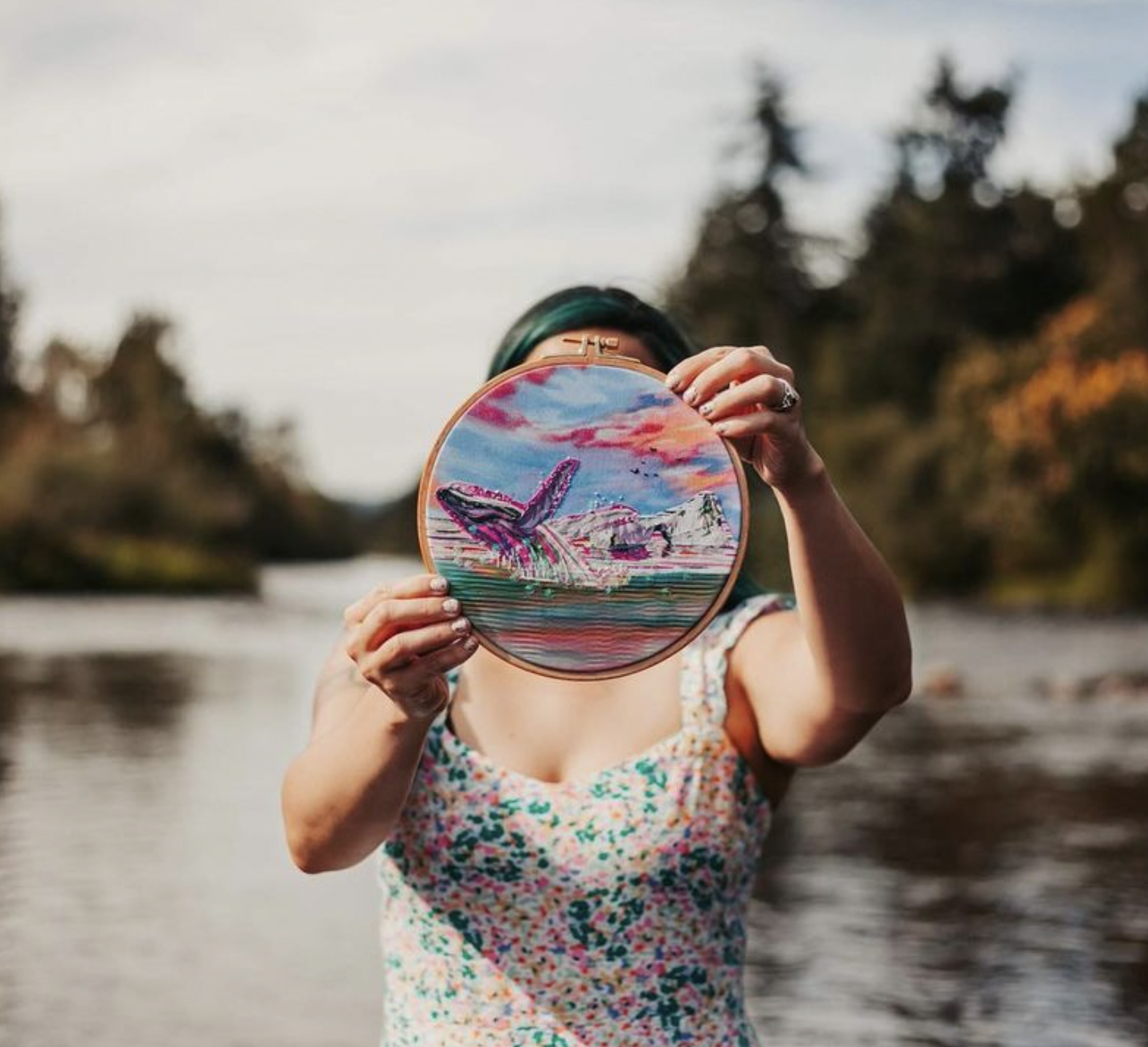 Oh, and before we close, I'm dragging out a little soap box for you. *dragging out the soap box* Feel free to step on it and give a little speech about the video you made that went viral. (If you haven't seen it, you definitely want to watch it HERE.)
I did not think anything would come of that reel/tiktok--I made it after having an exchange with a condescending and rude troll on my instagram when I was feeling extra spicy. And while I experienced a lot of mean and rude comments, I would do it again because it opened up the dialogue about pricing, what a living wage actually is for an independent artist/small business, and how we, as a society, view the fiber arts as "less than" other art forms. It brought an entire community of artisans and art lovers together and it resulted in so many more people finding my art. I'm still in shock over the whole thing, and so completely grateful.
Thank you so much for reading this interview. Be sure to check out Hannah's Instagram (@needle_or_thread) and grab one of her new kits.